Our address is 1151 Dove Street Suite 100 located in Newport Beach, CA.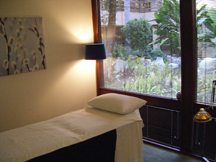 As you pull into the parking lot, keep left and park wherever you find a space. Find an entrance to the interior courtyard (you will see ferns, palms and a little pond) and look for Suite 100. Come on in and let the front desk staff know that you have arrived. Have a seat and a bit of water if you prefer. Also, should you need them, the bathroom keys are hanging by the mirror and the bathrooms are in the center of the building (outside in the courtyard).
Christopher will meet you in the lobby and bring you back to the massage room (pictured)
The room is air conditioned and heated. The table has a memory foam topper as well as a heating pad. Natural cotton sheets are used and there are more pillows, bolsters and equipment to ensure you are comfortable. The room also has hot stones, infrared lights and is appointed with several chinese herbal topical to further the efficacy of your treatment.